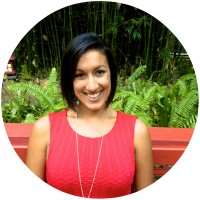 Alex Ramirez, Psychologist
Specialises in:
Mental Health Issues
Areas of Expertise and Interest
Alex offers a flexible service, suited to the needs of the client, being gentle when necessary and practical when appropriate. Alex's travels, professional and life experiences enable her to connect with her clients in a genuine and approachable way. Alex aims to identify clear goals at the start and throughout the therapeutic process of living a more connected life. Alex is trained in a broad range of therapeutic approaches, and draws on each modality to suit a person's individual needs. Alex primarily basis her interventions on mindfulness based approaches, including Acceptance and Commitment Therapy and Interpersonal Neurobiology. Alex is also trained in Cognitive Behavioural Therapy, Narrative Therapy, Motivational Interviewing, and is currently training in the specialised treatment of EMDR (Eye Movement Desensitation and Reprocessing).
A crisis or challenge is so often a wonderful opportunity for change. The part that makes it difficult for clients is the distress that is experienced. As a society, distress is often seen as an unwanted, abnormal, intolerable, or symptomatic state. However, distress, when accepted and confronted, can bring about necessary insights for learning and growth. Seeing a psychologist, like Alex, is a courageous step in self-care and Alex admires her clients who connect with their own vulnerability to seek help. Alex has a special interest in working with people to provide empowering information, holistic evidence-based care, and a focus on the therapeutic relationship as mitigating stress and initiating positive change.
Alex is a licensed Circle of Security Parent Educator, and assists families to feel more connected with each other. Alex's interest area is in identifying the attachment needs of children with their families, so that they can achieve emotional resilience, which ultimately improves their overall behaviour. As a mother herself, Alex is genuinely aware of the complexities of parenthood and family life.
In summary, Alex has special interest and experience working with adults, adolescents, and children who may be experiencing the following issues:
Depression
Anxiety
Trauma
Post-traumatic stress
Adjustment to life events and circumstances
Phobias
Grief and Loss
School refusal
Abuse and violence
Social Communication problems
Eating disorders
Birth trauma for parents
Post-natal depression
Relationship counselling
Qualifications and Background
While Alex was graduating a degree in Applied Psychology in the UK, she worked as a Student Mentor with at risk youths. After graduating in 2007, Alex worked as a Research Assistant for the Psychology Department at the University of Exeter, collecting information about the impact of Reminiscence Therapy on elderly people with Dementia, and the relationship of Depression.
Alex has travelled extensively and has been involved in several projects whilst abroad before eventually settling in Australia. Alex spent considerable time in Sri Lanka after the Tsunami in 2005 working in an Orphanage for disabled and abandoned children. She was also involved in rebuilding homes and businesses for local people in Sri Lanka, and worked in a refugee camp engaging children in psycho-social play.
In Australia, Alex is proud to have worked in a public mental health service for children, adolescents and their families for several years. She also spent some time teaching Child Development at Griffith University to Undergraduate Psychology students. She has been enjoying working in private practice since 2012 which was her ultimate career aim. Alex is a registered provider with Medicare, and offers medico-legal and therapeutic services to WorkCover and Victim's assist clients, as well as clients who refer themselves or via their General Practitioner. Appointments are available at the Noosa clinic rooms.
Contact Alex Ramirez
Phone: 5479 1212
Email: alex@scclinpsych.com.au
GP referrals can be faxed to (07) 5335 1697
Clinic 1 – Office 2 Oasis Centre, 16 Sunshine Beach Rd, Noosa Heads, QLD
Clinic 2 – 81 Sixth Ave, Maroochydore, QLD